Season events days are public by default, but there are several cases where you may want to manually control when to make the evend day vendor list public. One case is where stall assignments are frequently changing up until the day of the event, or you have several vendors that need to be moved around as you get closer to filling out all your stalls. Also, if you prefer to wait closer to the event day to stage your vendors, you do not want potentional customers viewing your event and seeing a market that's half full.
To get started, first bring up your seasons list in the dashboard (#1) and click on the season you wish to modify (#2)

Next, take note of the current Event Publishing Mode (#1) and then click to Edit (#2) your season

Select the dropdown under Event publish mode (#1) and choose Manual, then click Save (#2) to update your season configuration

Next, we're going to unpublish an existing published day. If you have just started a season and the upcoming date is not within a few days then all those dates are unpublished automatically. To alter a event day that is published, scroll down until you find a event date with a P icon next to it (#1), click on that date to view the event day configuration screen.

This will allow you to unpublish the event day by clicking on the Published (#1) button

Once clicked, a popup box will appear asking you to confirm unpublishing the event day, to do so click on Unpublish button (#1)

To verify the event day is unpublished, you can see the button is now reflected as Not published (#2). To see what a potentional customer sees now when they access your market day, click on the market profile icon (#2)

On the market profile page, click on the date that was unpublished (#1)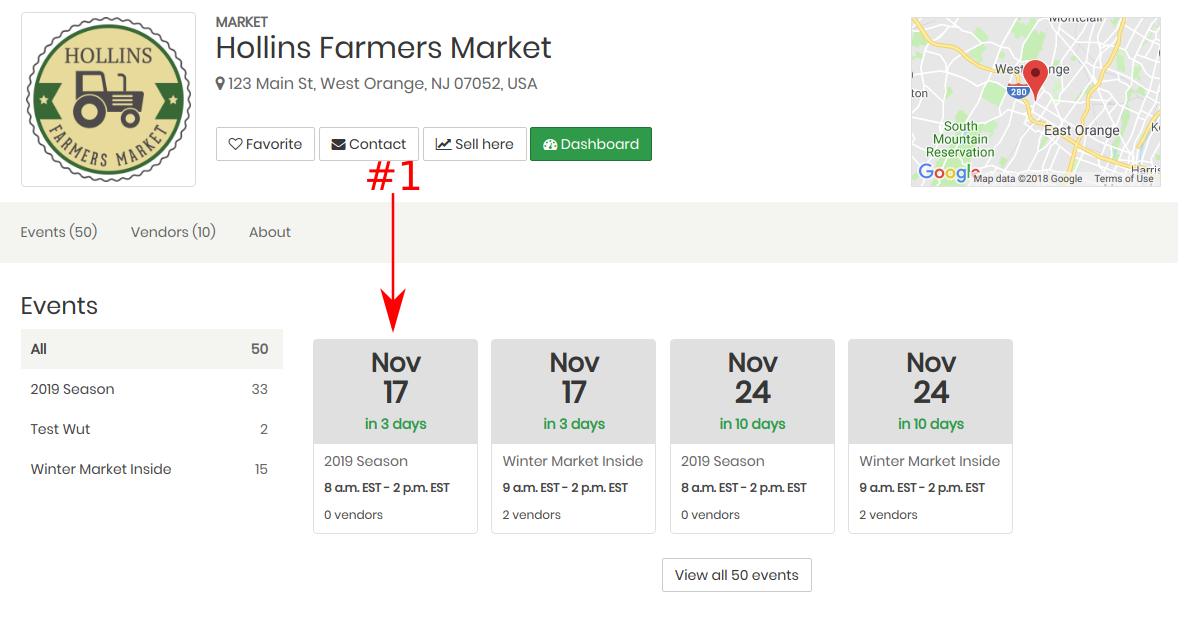 Now you will see that this event is unpublished and that the potentional customers and vendors will see a informational box letting them know that the stall assignments and vendor participation has not yet been finalized (#1)