To manually control the publication of your event maps make sure youre event has the Event publishing mode set to Manual. For more detail on setting this please reference the following support article.
Configuring your map publication settings.

After you confirm your Event publishing mode is in Manual you can go to Events in your side toolbar as seen below.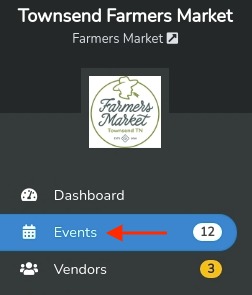 This will take you to a listing of all your events. Notice that there is a Map column, Here you will see each event's map publication status and a shortcut link to that event's map if published.

Notice that in this example we only have the map published for Dec. 12th. To publish the map for Dec. 19th, click on the grey overview button at the far right of the Dec. 19th event listing.

Here, you cand see at the top right the yellow Not pubished indicator button. To publish the map, simply click on that button.

Then, click the blue Publish button in the confirmation window.

Now, you can see the publish indicator button at the top right has been updated to Published.

Going back to the event listing page you can now see that the event is listed as Published with a direct shortcut link to the actual map.

Repeat these steps as necessary to manually control the publication of your event maps.