Access to Applications can be done via a direct link that you can email or message out.
This is a great way to invite vendors to apply to your market or event even when your application is closed to the public.
First, from your market Dashboard, go to your event by clicking EVENTS under "Event Configuration" in the left-hand navbar.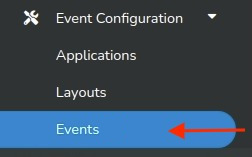 Then choose which event you are working with, click on the grey overview button at the top right.

Then at the top of your event page, click on the Actions tab.

Then, click on the grey Copy URL to clipboard button.

Now you can paste that link as needed- such as in an email to the vendor that you would like to let apply. With this link, they can apply even if the public application is closed.