To enable vendor sales reporting, select Events under Event Configuration in the side panel of your dashboard.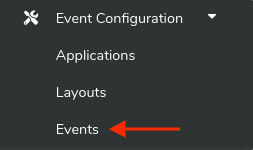 Then select the event you would like to enable sales reporting for, in the example below we selected Summer Season 2020.

Next, select the Edit button at the top right.

Scroll down to the Event Sales Reporting section. Click the toggle to enable sales reporting. It will turn from red to green.

Once enabled you are presented with some additional options. First, you can turn on vendor notification. Enabling this will cause all vendors attending the event to get an email 30 minutes before event close to report their sales.

You can also choose to auto invoice based on a percentage of sales. There are two ways you can do this.
1. Charge a percent of sales with an optional min and max fee.

2. Charge based on a slidiing scale whare you can link fees against sales ranges.

Finally, for any configuration of sales reporting you need to specificy which currencies (types of sales) you want configured.
NOTE: If you do not enable any currency your vendors and exhibitors will not be able to report any sales!
See the example below.

There are five options.
Do not use (will not show up as an option for vendors to report against)
Chargeable
Reimbursable
Chargable + Reimbursable
Report Only
The Chargeable option will include the reported sales in the sales payment option if configured.
The Reimbursable options is used for tokens or other currencies where the market will reimburse vendors at checkout.